Trinity County
COVID-19 & Flu
Walk-in Clinic Sites
•
Wednesday, May 25, 2022 • 9 a.m. to 5 p.m.
Veterans Memorial Hall (SnapNurse)
100 Memorial Dr., Weaverville
Pfizer (Ages 5 & older), Moderna, Janssen (18 yrs. & older)
Booster Available
Rapid Antigen and PCR Lab Testing available (Ages 2 yrs. & older)
•
Thursday, May 26, 2022 • 9 a.m. to 5 p.m.
Douglas City Fire Dept. (SnapNurse)
100 Steiner Flat Rd., Douglas City
Pfizer (Ages 5 & older), Moderna, Janssen (18 yrs. & older)
Booster Available
Rapid Antigen and PCR Lab Testing available (Ages 2 yrs. & older)
•
Friday, May 27, 2022 • 9 a.m. to 5 p.m.
Hayfork Community Center (SnapNurse)
154 Tule Creek Rd., Hayfork
Pfizer (Ages 5 & older), Moderna, Janssen (18 yrs. & older)
Booster Available
Rapid Antigen and PCR Lab Testing available (Ages 2 yrs. & older)
•
Saturday, May 28, 2022 • 10 a.m. to 5 p.m.
Trinity County Library (SnapNurse)
351 Main St., Weaverville
Pfizer (Ages 5 & older), Moderna, Janssen (18 yrs. & older)
Booster Available
Rapid Antigen and PCR Lab Testing available (Ages 2 yrs. & older)
•
Tuesday, May 31, 2022 • 9 a.m. to 5 p.m.
Lewiston Fire Dept. (SnapNurse)
200 Texas Ave., Lewiston
Pfizer (Ages 5 & older), Moderna, Janssen (18 yrs. & older)
Booster Available
Rapid Antigen and PCR Lab Testing available (Ages 2 yrs. & older)
•
Wednesday, June 1, 2022 • 9 a.m. to 5 p.m.
Veterans Memorial Hall (SnapNurse)
100 Memorial Dr., Weaverville
Pfizer (Ages 5 & older), Moderna, Janssen (18 yrs. & older)
Booster Available
Rapid Antigen and PCR Lab Testing available (Ages 2 yrs. & older)
•
IF YOU ARE SYMPTOMATIC: Do not enter the building,
follow instructions on the sign at the site
**Clinics Subject to Change Due to Inclement Weather**
For COVID-19 information and clinic updates, call Trinity County Public Health Branch COVID- Line at 530-623-8235 or go online to www.trinitycounty.org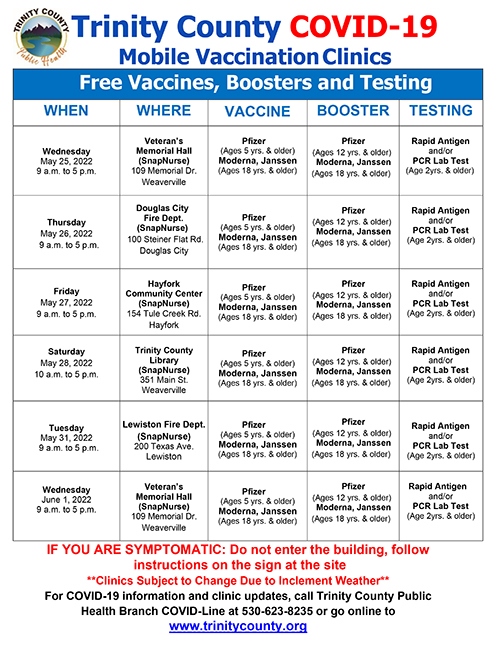 click here for full-size pdf file to print


Trinity County
COVID-19 & Flu
Walk-in Clinic Sites
•
Wednesday, June 1, 2022 • 9 a.m. to 5 p.m.
Veterans Memorial Hall (SnapNurse)
100 Memorial Dr., Weaverville
Pfizer (Ages 5 & older), Moderna, Janssen (18 yrs. & older)
Booster Available
Rapid Antigen or PCR Lab Test available (Ages 2 yrs. & older)
•
Thursday, June 2, 2022 • 9 a.m. to 5 p.m.
Junction City Store (SnapNurse)
43380 CA-299, Junction City
Pfizer (Ages 5 & older), Moderna, Janssen (18 yrs. & older)
Booster Available
Rapid Antigen or PCR Lab Test available (Ages 2 yrs. & older)
•
Friday, June 3, 2022 • 9 a.m. to 5 p.m.
Hayfork Community Center (SnapNurse)
154 Tule Creek Rd., Hayfork
Pfizer (Ages 5 & older), Moderna, Janssen (18 yrs. & older)
Booster Available
Rapid Antigen or PCR Lab Test available (Ages 2 yrs. & older)
•
Saturday, June 4, 2022 • 10 a.m. to 5 p.m.
Trinity County Library (SnapNurse)
351 Main St., Weaverville
Pfizer (Ages 5 & older), Moderna, Janssen (18 yrs. & older)
Booster Available
Rapid Antigen or PCR Lab Test available (Ages 2 yrs. & older)
•
Tuesday, June 7, 2022 • 9 a.m. to 5 p.m.
Lewiston Fire Dept. (SnapNurse)
200 Texas Ave., Lewiston
Pfizer (Ages 5 & older), Moderna, Janssen (18 yrs. & older)
Booster Available
Rapid Antigen or PCR Lab Test available (Ages 2 yrs. & older)
•
Wednesday, June 8, 2022 • 9 a.m. to 5 p.m.
Veterans Memorial Hall (SnapNurse)
100 Memorial Dr., Weaverville
Pfizer (Ages 5 & older), Moderna, Janssen (18 yrs. & older)
Booster Available
Rapid Antigen or PCR Lab Test available (Ages 2 yrs. & older)
•
IF YOU ARE SYMPTOMATIC: Do not enter the building,
follow instructions on the sign at the site
**Clinics Subject to Change Due to Inclement Weather**
For COVID-19 information and clinic updates, call Trinity County Public Health Branch COVID- Line at 530-623-8235 or go online to www.trinitycounty.org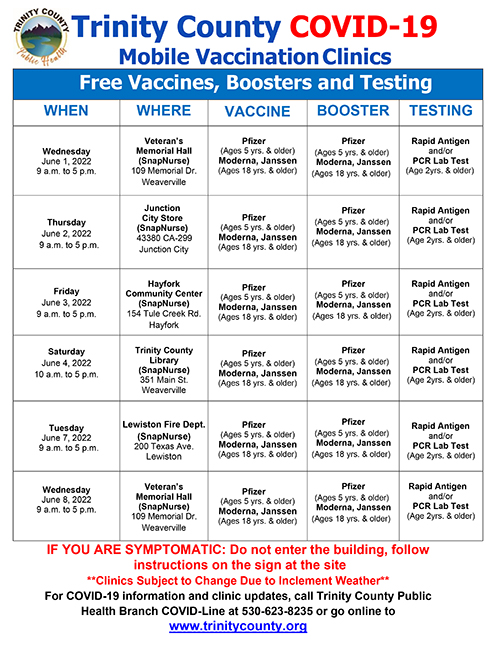 click here for full-size pdf file to print

Trinity County Public Health
Greetings!
We have been very grateful over the past year to have partnered with the
SnapNurse Team and make available Covid-19 vaccination and testing for
Trinity County residents.
The SnapNurse Team's last day is June 30, 2022.
We wanted to make sure our community members have the opportunity to
take advantage of this service prior to June 30. Trinity County Public Health
Branch will continue to work with partners to ensure access to testing and
vaccination into the future.
Please check the schedule on the Trinity County website:
https://www.trinitycounty.org/COVID-19
Or in the Trinity Journal
Or by calling 530-623-8235