Covid Vaccine clinics at various times and locations.
HUMBOLDT  |  DEL NORTE |  SISKIYOU |  TRINITY
UIHS 5 & UP
Indian Health Service COVID-19 Vaccine Distribution List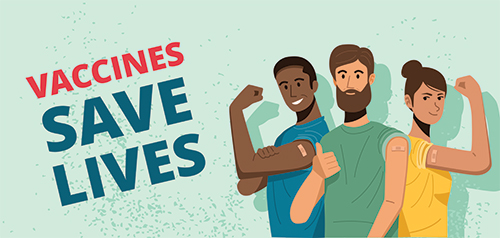 Various COVID Vaccine clinics in the Northern California
counties of Humboldt, Del Norte, Trinity, and Siskiyou.

UIHS 5 & Up COVID-19 Vaccinations
COVID-19 Vaccines will be offered at all UIHS medical clinics.
Please call your local UIHS medical clinic to make an appointment.
Clients ages 5–17 will be offered the Pfizer vaccine.
Potawot Health Village
5–11 year old special vaccination event November:
Monday 15th, Tuesday 16th, Wednesday 17th
5:00 pm–7:00 pm.
Please Call for an appointment. All are welcome.
All UIHS Medical Clinics
Vaccines will be offered at all UIHS medical clinics please call your local clinic:
Elk Valley Office (707) 464-2919
Libby Nix Health Clinic (530) 625-4300
Taa-'at-dvn Clinic (707) 464-2750
Eureka Health Clinic (707) 442-0380
Hop'-ew Puel Health Clinic (707) 482-3655
Potawot Health Village (707) 825-5010
Xaa-wan'-k'wvt Clinic (707) 487-0215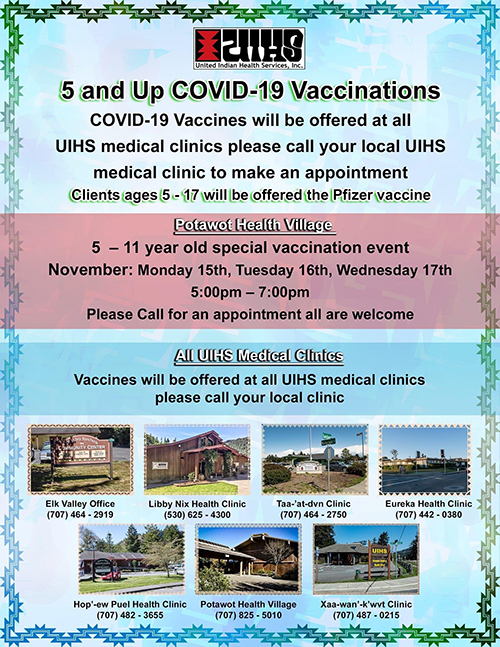 click here for full-size file to print